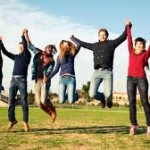 MANY FORWARD THINKING COMPANIES ARE HIRING OUR BARBERS2U  MOBILE BARBERSHOP TO OFFER OUR SERVICES TO THE THEIR EMPLOYEES .
A MINIMUM OF 10 CUSTOMERS ARE REQUIRED IN ORDER FOR US TO VISIT A WORKPLACE AND EACH INDIVIDUAL CAN EITHER PAY THE £12 COST THEMSELVES OR THE OWNER CAN HIRE US ON A HALF OR FULL DAY BASIS.
TO ENSURE MEMBERS OF STAFF ARE NOT AWAY FROM THEIR DESK ALL AT ONCE, WE TAKE 15 MINUTE APPOINTMENTS WHICH CAN BE DEDUCTED FROM A LUNCH HOUR.
WE BELIEVE IT IS AN EXCELLENT WAY OF ENSURING STAFF ARE ALWAYS LOOKING THEIR BEST WHILST SAVING EMPLOYERS THE UNDUE STRESS OF STAFF TAKING EXTENDED LUNCH BREAKS WHEN VISITING A TRADITIONAL HIGH STREET SALON DURING THE WEEK.
IT IS ALSO  AN ATTRACTIVE EMPLOYEE BENEFIT AND ADDS TO STAFF ATTRACTION AND RETENTION RATES.
SO WHY NOT GIVE OUR UNIQUE SERVICES A TRY AND SEE WHY MANY COMPANIES NOW SEE US AS A VALUABLE ADDITION TO THEIR LIST OF STAFF BENEFITS
TO MAKE A BOOKING YOU CAN EMAIL US AT  [email protected] or call us on 07982907261