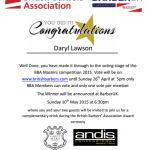 WERE VERY PROUD TO ANNOUNCE WE MADE IT INTO THE FINAL 12 OF THE BRITISH BARBERS ASSOCIATIONS "CREATIVE MASTER COMPETITION"
The competition was open to all barbers across the uk and the final 12 were selected by a panel consisting of industry experts.
The 12 entries were then voted on by over 6000 bba members to find the eventual winner Jamie Dunning of savills barbershop.
Were truly honoured to be recognised for our hard work and to be considered in the same category as some of  the uks best barbershops…….