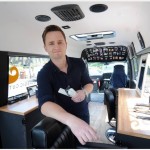 An A21 lay-by might not be a place you would expect to have a hot towel shave – but one entrepreneurial Tunbridge Wells barber is about to make it happen.
Darryl Lawson, 27 of Parkwood Close has kitted out an Iveco 17-seater minibus in to a barbers on wheels.
Converting it mostly by himself, it features two salon chairs and is fully-equipped for everything he needs from cuts and beard trims to the luxury shaves.
And what just might prove a hit is that on board there is a television but also an Xbox for the gents waiting their turn.
The former 'dial-a-ride' bus has been repainted and branded with his 'Barbers 2 U' logo and is about to take to the road.
Mr Lawson said he was still working up his schedule but he plans to park in the A21 lay-by – handy for lorry drivers and businessmen – and also to spend two days at North Farm industrial estate, where there are many businesses. He also plans to visit Tonbridge.
He also hopes to do the male contingent of wedding groups and to visit boarding schools in the area.
He told the Courier this week: "It's like a normal high street barber being in your local area. Absolutely everything is on board. It's being done in America, it's massive there. But I think I am the first person to brand it and bring it over here. With the wedding groups, I can go to the groom's house or go to the hotel and do all of the men in one session."
Bluebeards
He has teamed up with shaving product company Bluebeards Revenge, whose line was named FHM magazine's product of 2013 in its grooming awards, and uses their products.
He also has created his own branded wax styling products.
Mr Lawson, who has been cutting hair for 10 years and who took his trade to Australia for two years, said: "I think my main selling point is that town centre parking is quite expensive nowadays. You go in to town, pay for parking, you don't know if an hour will be enough so you pay for two hours. And most importantly there is the time factor. Everyone is so busy. This is during the week and it's convenient. It's not a life and death decision, but people like to keep their weekends free."
He added: "I am trying to keep one day a week free at the moment, so if an elderly gentleman who can't get out needs me, I can do that sort of thing."
He said with the fashion of big beards, trimming them was quite popular but talking of the hot towel shaves, he said: "I use a single edge razor, which used to be called a cut-throat razer which doesn't sound very nice. It is probably the most relaxing thing a guy can have done. I have heard that if a woman was to have it done it would be the best exfoliation they could have. It leaves you feeling so fresh. You have a cold towel put on at the end and your skin just tingles."
BLOB: To find out more telephone Mr Lawson on 07982 907 261
Read more: http://www.courier.co.uk/Close-shave-A21/story-21447389-detail/story.html#ixzz37EZmjfnr
Read more at http://www.courier.co.uk/Close-shave-A21/story-21447389-detail/story.html#36s3xmirv0OVrIR5.99